Hello Makers!
The clouds have rolled in for a while and it's starting to feel like Autumn could be just around the corner.  Our fall and winter yarns and fabrics are starting to arrive and we can't wait to show you all the new things we've got for you to create with!  We've also got a class schedule for September and October with great new workshops so be sure to read about them below or pick up a class guide in store.  There's needle felting and wet felting with Alexis Bach, yarn dying and bag making with Jill Sullivan and for the first (and hopefully not only) time Caitlin Ffrench will be here for a day to teach natural solar dying and knit shawl design.  Please make sure you call or come in to reserve your spot in advance.
On September 19th we're going to be heading up to Powell River Town Centre to hold a Pfaff sewing machine event!  We will be bringing our inventory of Pfaff machines for you to try out and (fingers crossed) we'll be able to offer basic servicing on existing machines.  Look for more details on this event being sent out soon.
Attention Parents!
Many of you have asked after classes for kids and we'd like to start offering a Kid's Knitting club and Kid's Hand Sewing and Embroidery club but we need some feedback from you first.  If you've got a child age 6 or up who you think would like to take part in either of these fun activities please take a few moments to fill out
this survey
 to let us know what days and times are going to work best for the most families.
If you have any questions or comments please don't hesitate to get in touch with us in person, on Facebook, Ravelry or by email.
No Knit Scarf (1 class) with Jill Sullivan
The quickest and easiest art scarf you will every create!  Using water soluble stabilizer, your sewing machine, and some creativity you'll learn how to turn scraps of fabric, ribbon and wool into a fantastic no-knitting-required scarf.  This is a great project to use up bits of left over favourite fabrics, ribbons, decorative threads and yarn left overs and is beginner friendly.
Materials: Your sewing machine, any bits of scrap fabric, yarn, roving, ribbons or decorative threads that you would like to use.  We will provide some material as well and we can share what we bring to get the best effects.
Dates: Sunday, October 18th
Time: 1pm – 3pm
Cost: $25
Needle Felted Pincushions
 (1 class) with Alexis Bach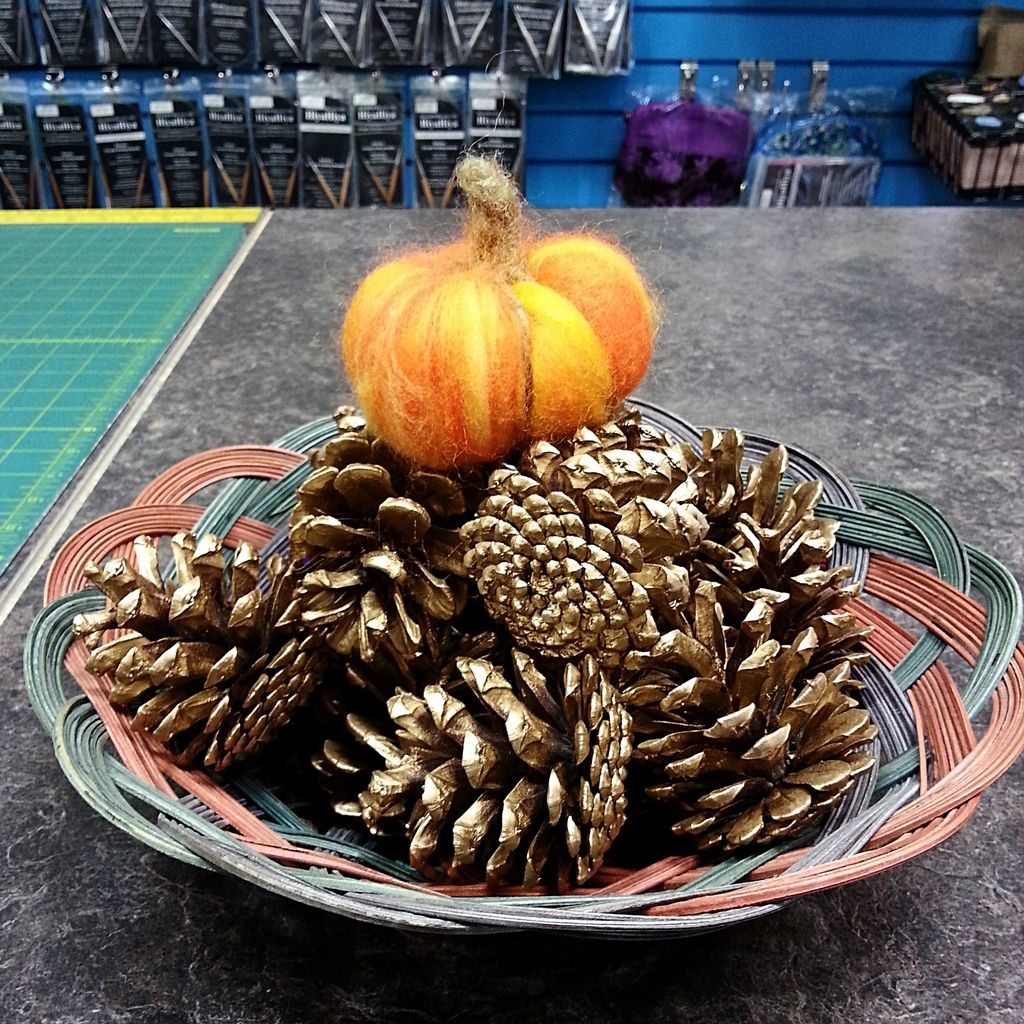 Did you know you can sculpt almost any shape out of wool? This beginner friendly needle felting class will show you the basics of shaping and felting 3D wool objects.  You'll blend colours and textures to make your very own one of a kind felted wool pincushion, be it a pumpkin, a cute critter or free form sculpture Alexis will guide you through the process that will get you started making all sorts of needle felted creations.
Materials:  Cost of materials are included in this workshop
DATES: Saturday September 19th
TIME: 10am – 12pm

COST: $35
Knitting Cables for Beginners
 (1 class) with Jenny Margueratt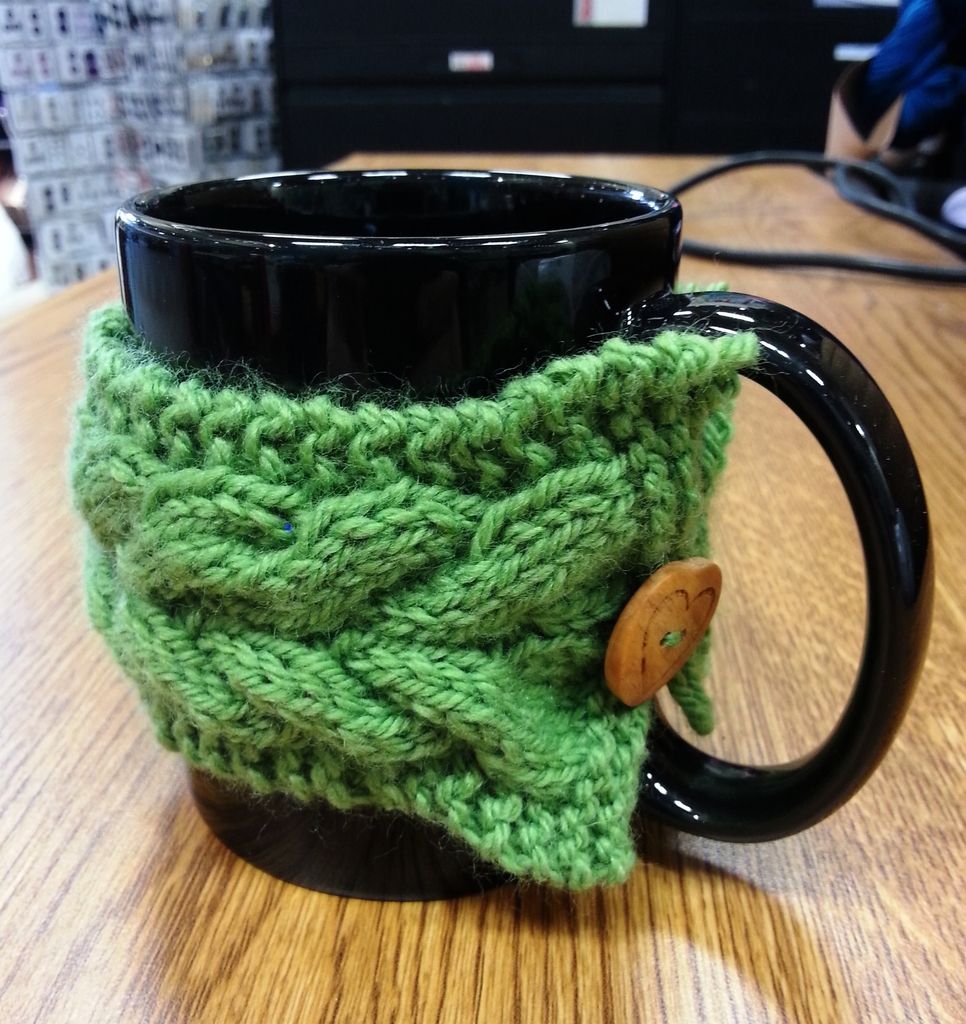 Knit cables can seem intimidating, but they don't have to be!  Using only knits , purls and a simple cable needle you can make gorgeous cables too.  We'll talk about the different types of cables, how they are represented in written and charted knitting and make a simple mug cozy project that will get you practicing two types of basic cable.
Materials:  25g of worsted weight (#4) yarn, 4.5mm needles either straight or circular
DATES: Saturday September 26th
TIME: 10am – 12pm
COST: $20
Yarn Dying with Wilton's Icing Dyes (1 class) with Jill Sullivan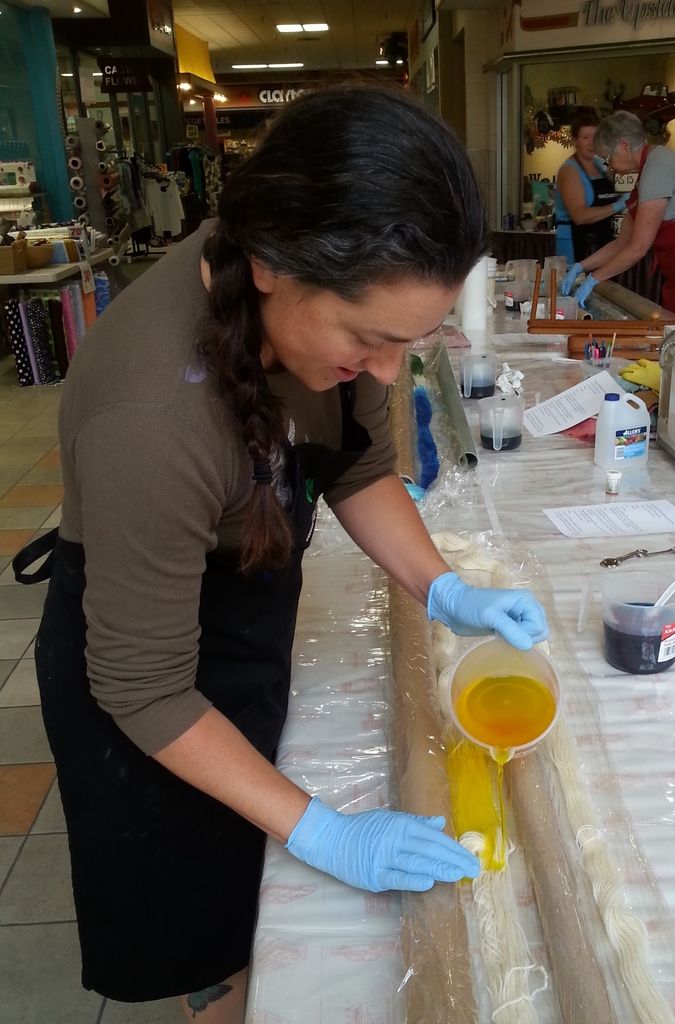 **Back by popular demand! Sign up early!**
Ever wondered how yarn dyers make such great colours?  You can do it too!  This super fun workshop is going to teach you how to dye basic wool yarn with food safe dyes in a microwave to make the most amazing custom mixes of colour.  Please wear old clothes, an apron and kitchen style rubber gloves.

Materials:  Materials are included in cost of this workshop.
DATES: Sunday, September 27th
TIME: 1pm – 3pm
COST: $25
Custom Sewn Bags (1 class) with Jill Sullivan
Having a great bag can sometimes make or break an adventure.  In this class you'll learn about different kinds of bag shapes and how to construct them, different hardware options to make your bag look professional and techniques to craft your perfect bag.  This class is suitable for less experienced sewers as well as those with more than a few projects under their belt.
Materials: Your sewing machine, scissors, pins, measuring tape, marking utensil, any medium to heavy weight fabric and/or webbing or strapping you may already have and want to use
Date: Sunday, October 4th
Time: 12pm – 4pm
Cost: $40 plus any materials (class materials will be given a 15% discount)
Wet Felted Purses (2 class) with Alexis Bach
Learn the tricks and techniques of resist wet felting to make a one of a kind wool change purse, clutch or small bag.  Resist felting, using a barrier to keep fibres from felting together, allows you to make seamless felted objects like bags and hats.  You will design and create the fabric for your purse in the first class, then once your creation has dried you can line it, add clasps or buttons and complete your purse in the second class.
Materials: Wool, fabric and tools will be provided, however feel free to bring buttons, small pieces of fabric for lining or other accessories if you have specific things you would like to incorporate into your design.
Dates: Saturday, October 10th and 17th
Time: 10am – 12pm
Cost: $50
Natural Solar Dying (1 class) with Caitlin Ffrench
We are super excited to have Caitlin Ffrench coming up from Vancouver for a day to give workshops, and we are especially thrilled that she's going to be teaching Solar Dying for you all.  Here is what she has to say about what you'll be learning:
"Learn to use the sun and time to naturally dye yarns.  In this workshop you will learn the health and safety of dyeing, which dyes you can wildcraft from your landbase, and how to achieve natural and beautiful colours."
Materials: 2 – 50g skeins of undyed protein (animal) yarn, 2 – 1L mason jars and lids
Dates: Saturday, October 24th
Time: 10am – 11:30am
Cost: $35
Lace Shawl Design Workshop (1 class) with Caitlin Ffrench
Be your own knitwear designer!  Caitlin is going to be teaching you about how to design your own triangle shawl from start to finish.  You'll make small swatches, based on your choices, and learn how to assemble your favourites into a completed shawl.
"In this two hour workshop you will learn to use a 'fill in the blanks' triangle shawl pattern.
You will choose the look of the shawl:
Increases
Spine and wingspan patterns
Lace patterns
Edging
Once you've gotten your design layout ready you get to go home and knit your own custom lace shawl pattern! You will also receive tips on how to self-publish on Ravelry and how to photograph your work."
Materials: A small variety (at least 4) of yarns in weights you want to work with and appropriate needles to go with them.
Dates: Saturday, October 24th
Time: 12:30pm – 2:30pm
Cost: $35
Drop-In Knitting Help Session (ongoing)
If you've got a knitting problem Linda Brooks has the solution.  Join Linda at Sew Easy on Thursdays from 2:30-4:30pm or Fridays from 3-5pm and get your knitting back on track!  Please bring your project, pattern and any notes you have so you can get the best help possible.
Drop-In Knitting costs $12 per session, or $30 for four sessions. Payment accepted in cash or cheque ONLY.
Final Thoughts
As always, feel free to share this with your friends, families and loved ones. The more people that know about out workshops, the more opportunity we have to build on them! You can follow our most up to date information on our Facebook page or in store.