Hello Crafters!
Below we've got information on a super fun Adult Needle Felted Mushroom Scapes Workshop coming up.  Our needle felting workshops fill up quickly so be sure to sign up early if you're interested in taking part!
We've got four new panel projects to show you, Thomas the Tank Engine, Minnie Mouse, Pirates Party Flags and Help Is On The Way! a playmat panel, all pictured below.  Also we have new yarns, some of which were requested by you!  A cotton ribbon yarn with a bit of sparkle, a wool-free sock yarn, itty bitty baby balls of cotton in delightful colours and a DK weight cotton blend for breezy knitting or crocheting through all this fine weather we're so lucky to have.
 So keep scrolling or come on in to see everything that's new at Sew Easy!

Adult Needle Felted Mushroom Scapes (1 class)
Whether it's a home for faeries, an indoor woodland oasis, or just a wonderful exercise in the creative possibilities of felt making these mushroom scapes are going to be tons of fun!  Alexis will teach you how to needle felt around a very simple structure to create your very own cute little mushrooms and foliage inside a piece of driftwood.
Sunday June 19th 1pm-4pm
$40
Materials:
 Please bring a piece of driftwood to use as your base, the more knobbly the better. No longer than 25cm (10″) please. All other materials will be provided.


Help Is On The Way! is a delightful play mat style panel for whatever adventures your little one can devise and create. Measuring 60cm by 110cm (24″x45″) it's a manageable size for any machine.  We have two coordinating fabrics for backing or binding. Panel cost is only $12.99.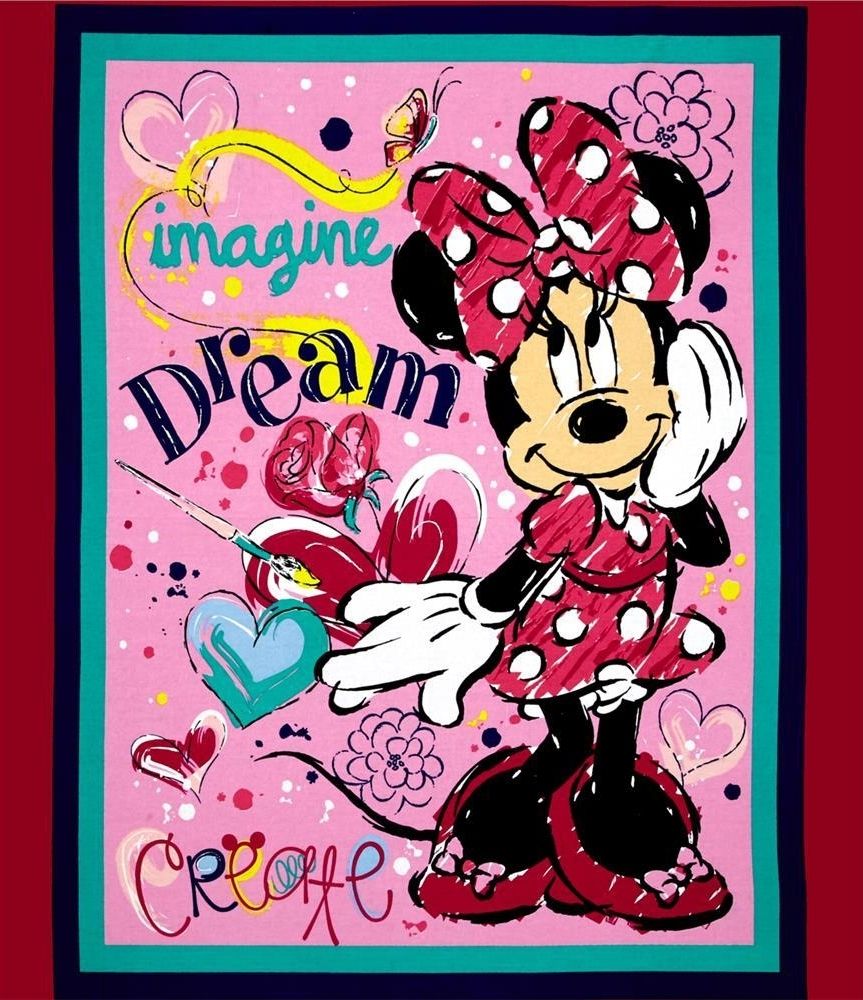 Introducing Minnie Mouse's Bowtique, Imagine, Dream & Create!  Minnie Mouse is still such a well known character and looking very good for 88 years old!  The bright, bold colours and brushstroke style make it a whimsical addition to a crib or bed.  She measures 88cm x 110cm (35″ x 45″) and is the perfect dimensions to use as is or add simple border strips to make it larger.  Cost for the panel is $14.99.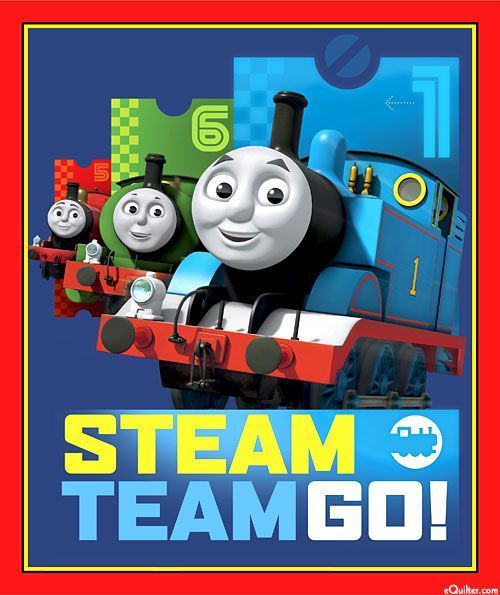 Another classic character that never fails to capture a new generation's interest is Thomas the Tank Engine and his crew!  Our panel features three of the original team and like our friend Minnie is 88cm x 110cm (35″ x 45″) perfect for a crib, bed or snuggling under while reading the stories together.  It also comes with my favourite of the coordinates, a black cotton base with colourful train signals all over.  Cost for this panel is $19.95.

Last of our new panels, but certainly not least is this adorable Pirate themed bunting panel!  Quick and easy to make, you can even make it a no sew project with a heavy fusible interfacing for the back and pinking shears to cut out the triangles! Perfect for a party, a bedroom or (my favourite option) a fort or playhouse. Cost for this panel is $12.55.

A number of you have asked for a wool-free sock yarn; something that's in the same fun colours and with the same wear life as the wool/nylon blends.  I am happy to say that Regia's Pairfect Cotton Sock is that yarn! A blend of cotton and a nylon/poly core (think cotton fibres spun around Woolly Nylon) this is a cotton sock yarn with give and bounce.  Coupled with Regia's Pairfect method of dying their yarns makes it effortless for you to get matching socks every time.  These 100g balls are $20 and make a pair.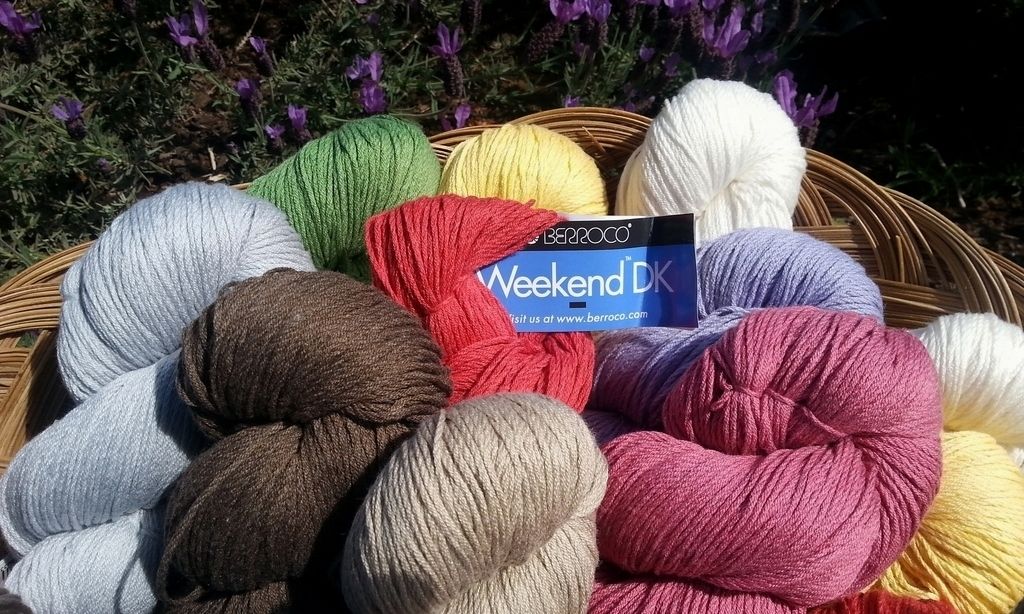 Our latest offering from Berroco yarns is their Weekend DK yarn, a soft and affordable blend of egyptian cotton and acrylic. Weekend works up breezy, into easy to care for, garments that will take you from the heat of summer to the warm days of autumn, and they're only $8 a skein!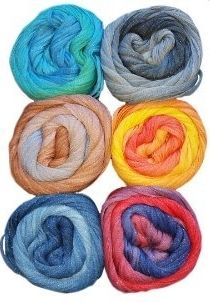 We've also had requests for a yarn with a bit of sparkle to it, something for the crafter who likes their yarns a little off the beaten path.  Schachenmayr's Batiko Sun is a long colour changing ribbon yarn with a little bit of shimmer that looks brilliant in the sunny outdoors.  A washable, squishable blend of cotton and polyester that will look lovely in open summer shawls or tops.  One ball will make the shawl pattern on the ball band and they go for $16.99 each.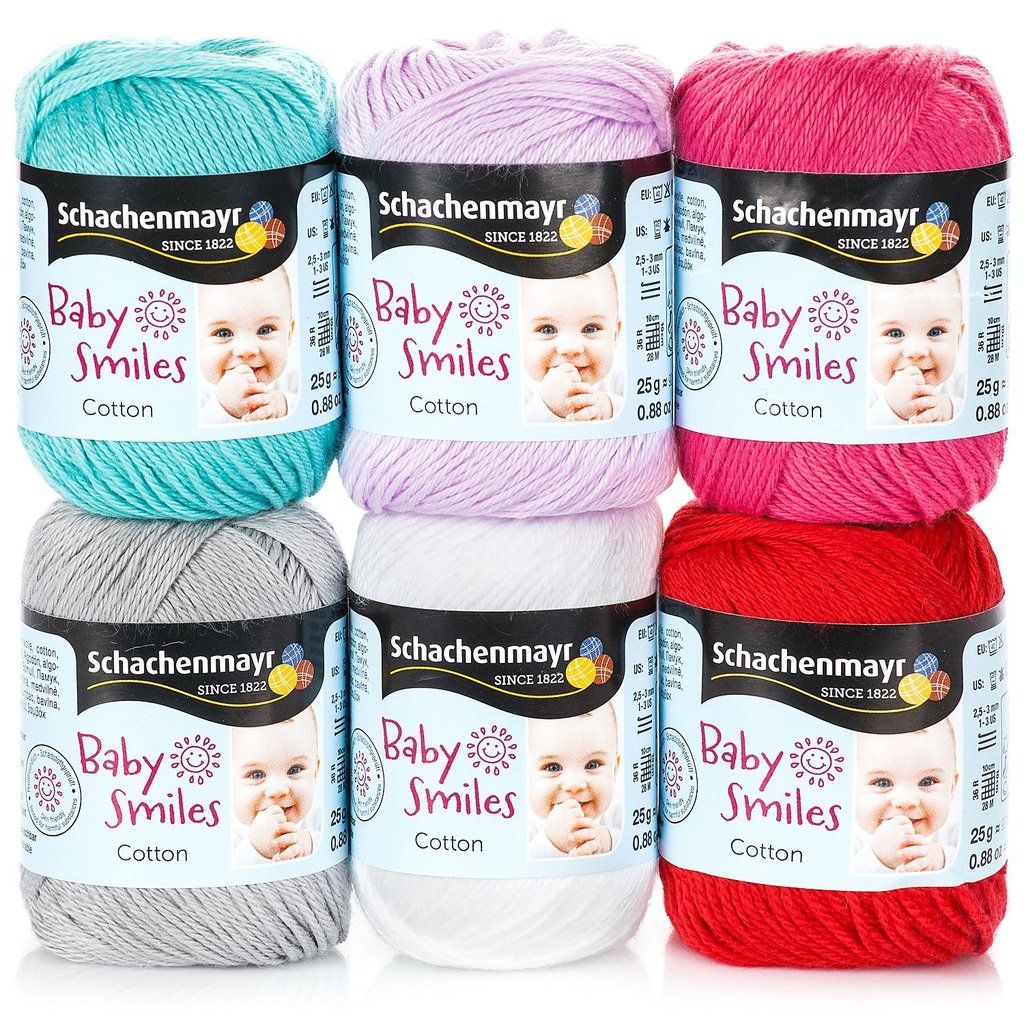 Finally, my favourite of our new yarns is Schachenmayr Baby Smiles Cotton.  These itty, bitty little balls of buttery soft pure cotton yarn comes in fourteen lovely shades and is perfect for everything baby.  One 25g ball will make a baby hat or socks, and only three balls to make a newborn sweater.  Each little bundle of yarn joy is only $4.